SERAFINA TRIBECA – NOW OPEN!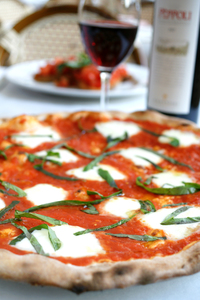 Dining and Events at The Cosmopolitan Hotel - TriBeCa
Serafina TriBeCa, located on the ground floor of The Cosmopolitan Hotel - TriBeCa, opened in July 2017 and upholds its tradition of providing guests with authentic Italian fare set within an upbeat and energetic atmosphere. Serafina TriBeCa serves brunch, lunch, dinner and take out daily. This fall, the restaurant will be open for breakfast and will provide room service to guests of The Cosmopolitan.
The Serafina TriBeCa menu includes a selection of various homemade pastas, salads, and main dishes including a Filet Mignon Burger, with gorgonzola cheese and caramelized onions; Filet of Bass Al Pinot Grigio, wrapped in thin sliced potatoes on a bed of zucchini and leeks; Serafina's legendary Tartufo Nero Pizza with hand selected Italian gourmet black truffles.
The restaurant features custom paintings from artist Pato Paez. Brightly colored art from Paez can be found throughout the space as well as a message of love displayed on the main dining room wall.
Private event space is located below the restaurant's main floor where guests have the option of an open event space or a 20-seat communal table, made in Italy.
Hours
Monday – Thursday: 11:30am – 11:00pm
Friday: 11:30am – 12:00am
Saturday – Sunday: 10:30am – 11:00pm
Call: (212) 766-8700